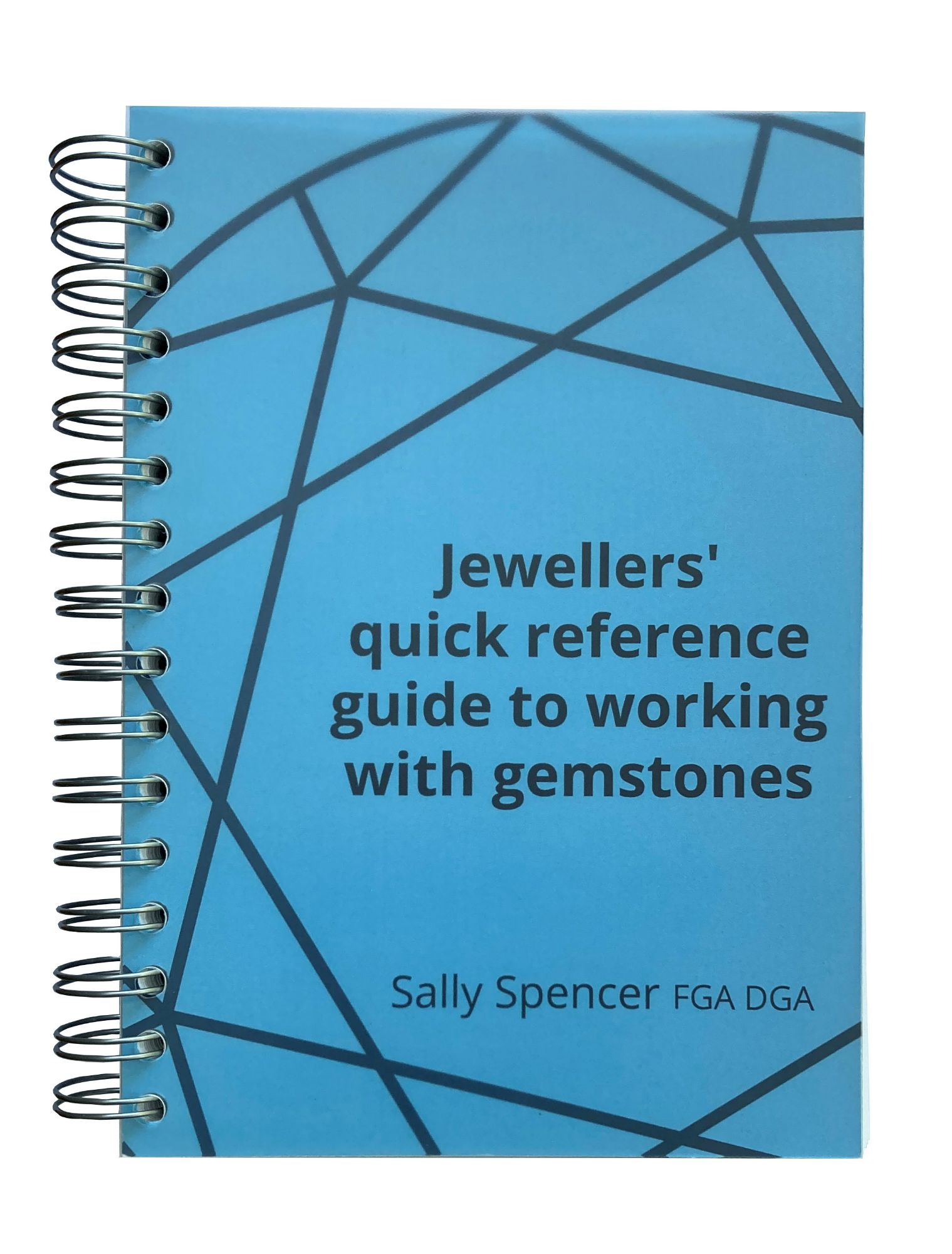 Jewellers' quick reference guide to working with gemstones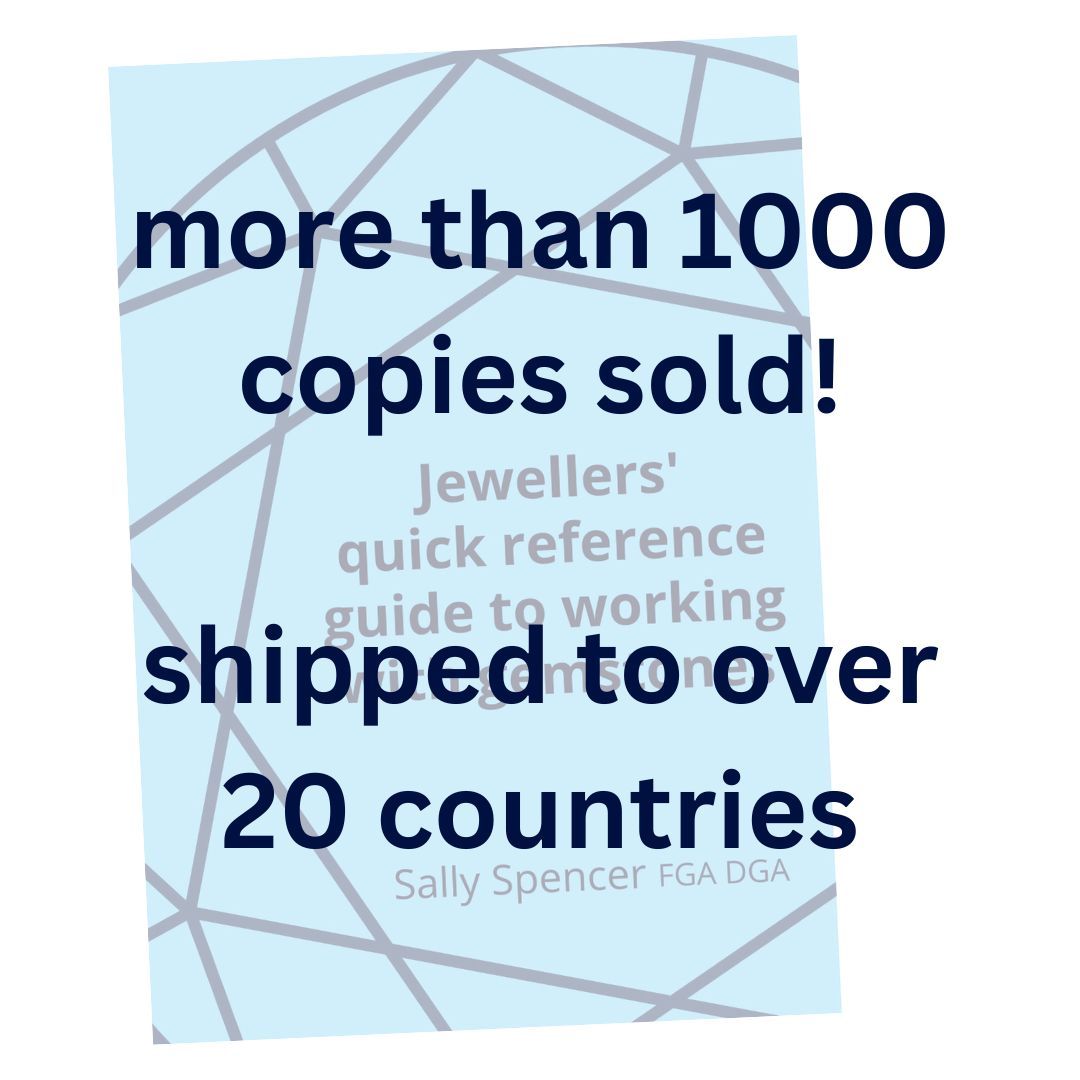 Jewellers, have you ever experienced that heart-stopping moment when you have accidently damaged a gemstone…
As a gemmologist I don't like to see damaged or broken gemstones and as a jeweller I understand how frustrating it can be when that happens, especially when it might be avoided with a little additional knowledge.
Written specifically for jewellers, this guide can live on the bench ready to answer queries when designing or working on a piece of jewellery and includes some gemmological information which could help avoid these moments.
Covering familiar stones such as amethyst through to the more unusual such as sillimanite, each gemstone has information about its durability and whether it might survive a swipe from a file or abrasive wheel, the pickle pot, repairing or resizing, polishing or cleaning using steam or an ultrasonic cleaner.
So, before you throw that gem-set piece of jewellery into the barrel polisher or ultrasonic cleaner or light the torch to resize that ruby ring why not double check if there might be a reason not to…
How to use the book with explanations for each of the various jewellery making processes - covers durability (hardness, toughness and stability), abrasives, barrel polishing, casting in place, firing in a kiln, filing, pickling, polishing, steam cleaning, heat from a torch (including firing in metal clay) and ultrasonic cleaning.
Gemmology and how can it help
How to use a loupe and tweezers
Visual clues of indications how a gemstone may react to the processes (with photos)
130 pages of gemstone information covering more than 110 different varieties and including 181 colour photos
Gemstone facet names, shapes and cuts
Information about casting in place, kiln firing and torch firing gemstones
Table of gemstones by colour
Cleaning gemstone jewellery and care advice for customers
Glossary
RRP: £29.99
Thank you - we have had some really lovely comments and feedback - here are just a few...
Andrew Berry from At the Bench first reviewed the book on one of his Youtube live sessions in 2021 and has now released this review. Andrew bought his copy - this wasn't a solicited review.
Jeanette Caines from Jewelry Arts Inc posted a video on Instagram. Jeanette bought her copy - this wasn't a solicited review.
"Your book arrived today and I just wanted to say how great it is! It really simplifies things for us who arent that experienced with gemstones. I will be recommending it to everyone!"
"I had heard that you had stuffed it full of great information, but until one sees it, I do not think one can know just HOW much is in the book. I am thrilled with my purchase!!
Thank you for a great reference tool!"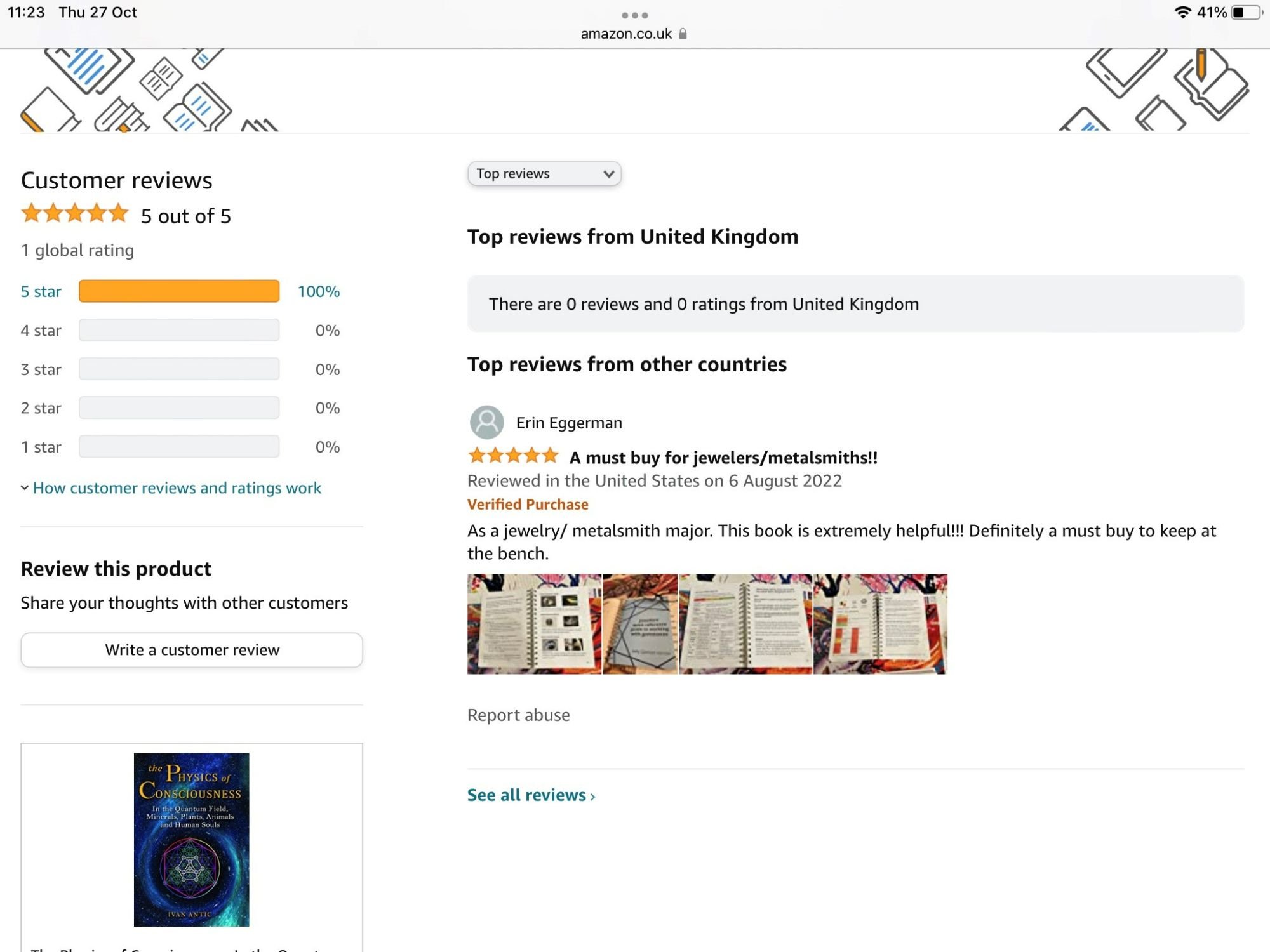 My first Amazon review...
and it's 5 star!
Thank you Erin - I'm so happy the book is out there, on benches, helping jewellers when they are working with gemstones.
In case you are wondering - the book was written to help all jewellers, whether they have been in the industry for years or recently started making jewellery as a hobby.
Thank you Kate!
Every comment, email or review means the world to me because it is a fellow jeweller who's finding my book helpful and discovering more about the gemstones they are working with. That's a pretty special feeling.