When identifying a gemstone...
Posted on
can get a little confusing... to put it mildly!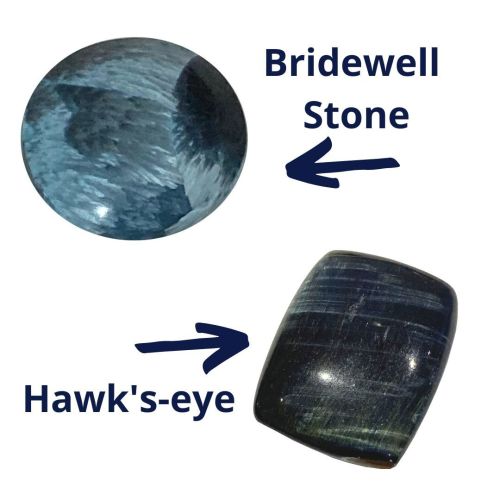 OK, let's start here... above is one type of Bridewell stone and a Hawk's-eye cabochon so that you can see them side-by-side...

Bridewell Stone is manmade - a mixture of elements, heated to over 1000 °C where fibrous (like these) or needle-like "inclusions" form during the cooling process. Seriously pretty.

Hawk's-eye is a variety of quartz - may also be marketed as Falcon's-eye or Pietersite (which may appear brecciated) but that's a whole big can of gemmologist and mineralogist worms which I'll explain more about below...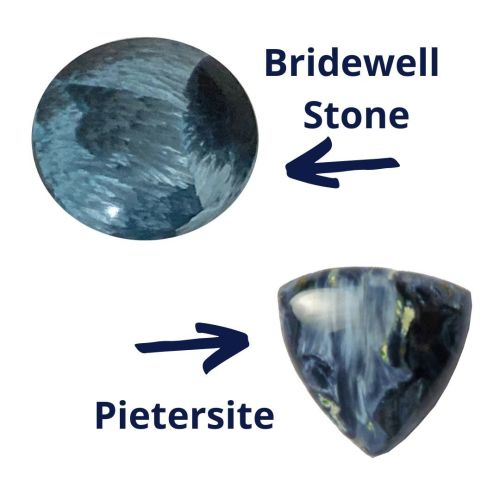 Here's Pietersite and Bridewell stone together for comparison...


CIBJO, the World Jewellery Confederation, describe both Falcon's-eye and Hawk's-eye as a variety of quartz in their Blue Books (industry definitive sets of grading standards and nomenclature for gemstones).
Pietersite does not appear in their coloured gemstone Blue Book... bit of an interesting and confusing naming nightmare... sadly...