What exactly is 'Fordite'..
Posted on
'Fordite' – why the quotation marks...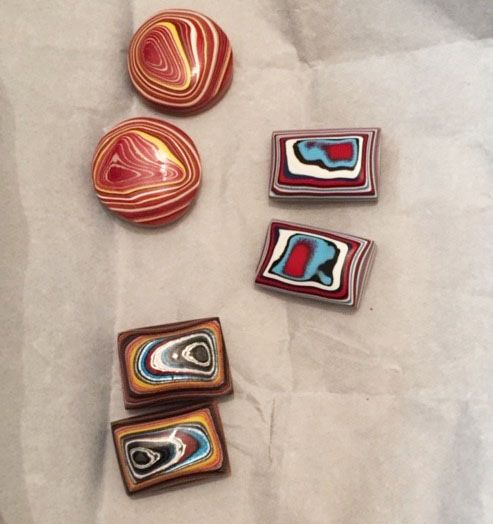 Also called 'Motor agate' or 'Detroit agate', Fordite is layers of vehicle paint that have built up and been baked on spray booths at motor plants. Modern painting methods no longer produce this by-product so it is a finite material.
I had these cut to make into cufflinks, the red ones, top left, are from the Pierce fire truck plant in either Florida or Wisconsin, the red, white and blue on the right are from the Kenworth truck factory in Chillicothe, Ohio and the ones bottom left are from the Corvette factory in Bowling Green, Kentucky.
It was interesting to see areas on the back of some of these where they had been chipped off rods and rails. I love the story behind these and while they aren't natural gemstones, they do make fun jewellery - as long as their origin is fully disclosed and they aren't sold as natural gemstones!